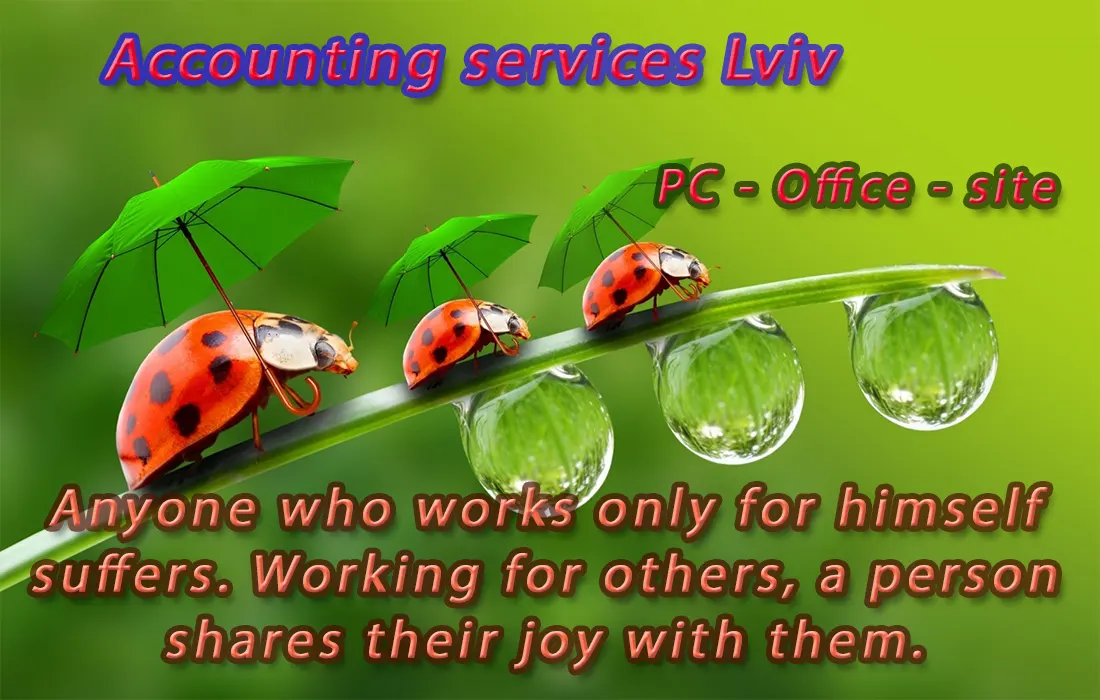 2021-06-04

Accounting IT outsourcing services in the city of Lviv and across Ukraine.
The company provides outsourcing accounting services in the city of Lviv and throughout Ukraine. The company's specialists have appropriate education and many years of practical work experience.
We provide accounting services for legal entities and sole traders in the city of Lviv and throughout Ukraine. We give preference to those customers who are on a single tax and allow us to provide accounting IT services at a high technological level of data processing. For example, a limited access service without the right to sign or an API key to access an account in Privatbank allows you to read statements, prepare payments and information, reports for the tax office. The customer only needs to sign and send. Also, in the case of effective work of the customer's employees in the preparation of data for processing (time sheet, changes to agreements, etc.), it is possible to achieve a significant reduction in the price of our accounting IT services.
We develop and design websites for the automation and accounting of services in the city of Lviv and across Ukraine. Our services are beneficial to such structures that provide services to many clients (markets, condominiums, shopping centers and other companies). The sample site is similar in structure to the market site with support for the sale of its tenants or customers and additional services for calculations and various charges. Where we cannot achieve a significant effect from automation, we do not work.
Document management, personnel and accounting in the city of Lviv and throughout Ukraine is carried out with the help of the latest versions of accounting programs such as "BAS PROF". We insure your accountant or clerk in critical situations. Electronic record-keeping services: we prepare contracts, acts, invoices and other documents in electronic formats. If necessary, we print on paper and send using the "New Mail" service.
Customers of our accounting and information services receive consulting IT support and accounting support in the city of Lviv and throughout Ukraine. Across Ukraine through postal services and voice communication. In the city of Lviv, it is possible for a specialist to be present at the customer's company in the agreed terms. Also, at the request of the customer, we provide consultations to his clients.